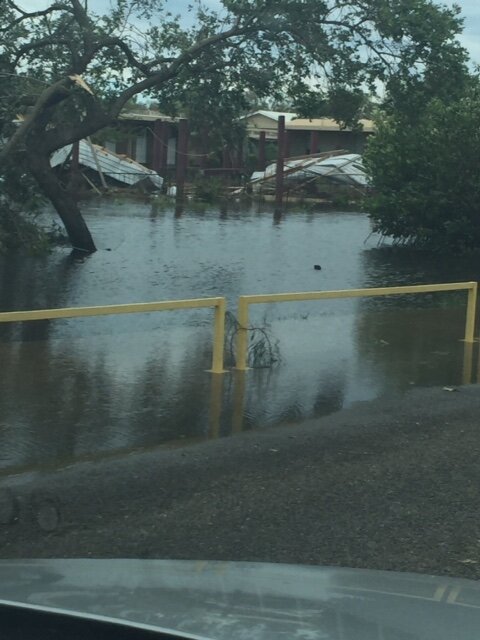 JUHAN stands in solidarity with St. John's College and the people of Belize as they recover from the devastating aftermath of Hurricane Earl which struck the nation on August 3rd.
JUHAN has been in touch with Mirtha Peralta, the President of St. John's College, who thanked us for JUHAN's prayers and appreciated our concern. President Peralta noted that St. John's College, an associate member of our AJCU family of colleges and universities, serves many students from low income households – many of whom have also been affected by this natural disaster. Much of the college's funding comes from the Government, which means that it will be difficult for the school to access the resources needed to carry out restorative work. We have attached some photos of the damage.
Le Moyne College and Tom Andino, Interim Director of Campus Ministry at Le Moyne College is taking the lead on the JUHAN fundraising initiative for the JUHAN network of schools and would be happy to collect donations as St. John's faces this major challenge. Checks may be made payable to LeMoyne College, with St. John's Hurricane Relief noted in the memo line and sent to Tom's attention. If you have any questions, he can be reached at . These funds will be combined and sent to the Development Office of U.S. Central and Southern Province, the Jesuit sponsor province of the Jesuit Mission in Belize.
If you prefer, you can also donate to the Special Hurricane Earl Fund set up by the Jesuits Central and Southern Province for this purpose.
Thank you as always for your support. Julie Mughal, Fairfield University Director, Jesuit Universities Humanitarian Action Network (JUHAN) and Associate Director, Center for Faith & Public Life
Let us know what you will be doing to help!
Le Moyne College: A Request for Help for Jesuit Sister School in Central America
On Wednesday, August 3, Hurricane Earl touched land in Central America and its combined rain and wind caused significant damage in the region, including Belize, and the country's capital, Belize City. The campus of St. John's College, and associate member of the Association of Jesuit Colleges and Universities with an enrollment of 2000 students, suffered extensive damage just as it was about to celebrate its 2016 graduation ceremonies. The A.J.C.U. has reached out to our Jesuit network in the U.S. and has asked that that in solidarity with our sisters and brothers there we offer prayerful and material support for the recovery and restoration efforts at St. John's. For the next several weeks, collections at Sunday Masses at the college chapel will be earmarked for those efforts.